Building the Future.
– The Strength of M
M is for the future (Mirai) and the markets (Māketto)
we aim to develop,aiming to bring satisfaction (Manzoku)
to everyone (Minasama).
Opening Markets of the
Future [="M"irai]
---
1

A one-stop solution provider of steel

We contribute to customers as a "one-stop solution provider," who deals with materials from ferrous scrap that comes out of demolished buildings, to steel material for new building constructions. When old buildings are demolished we deal with ferrous scrap, which will be raw materials for steel products. When a new building is constructed, we supply a wide range of steel products from piles for the building foundation to components for the structure and exterior, such as deformed bars, fabricated steel-frames, outer walls, and fences. This enables us to service a variety of customer needs with an attentive manner.

2

A broad-based network backed by the group companies

We have a broad-based network backed by the group companies of our shareholders—MITSUI & CO.,LTD. and Metal One Corporation—and its parent companies—Mitsubishi Corporation and Sojitz Corporation. This enables us to utilize the most up-to-date information to provide services best suited for customers, and we are highly regarded for both our steel products for construction and steel raw materials businesses.

3

Partnership; trust and a track record we have fostered with partners for many years

Over the years we have fostered trust and accumulated strong track records with a wide range of partners such as general contractors, developers, wholesalers and fabricators, in addition to strong ties with steel and construction material manufacturers. The strong and reliable support we built up with these cooperative partners is the essential basis for us to engage in major projects in Japan, including construction of high-profile facilities, large redevelopment projects, various infrastructure development projects and more. This is the backbone of the excellent business performance of MM&KENZAI Corporation.

4

Limitless business fields around the world
—aiming to be Asia's No. 1 global construction materials trading company

MM&KENZAI Corporation's business fields and relations with customers are not limited to Japan but expand overseas. The company is meeting its customers' varied needs by exporting construction materials, ferrous scrap, steel raw materials and semi-finished steel products to countries not limited to Asian countries but around the world such as in North and Central America; sourcing construction materials for large overseas development projects involving Japanese general contractors and providing support with Japan's advanced technologies and products for combating natural disasters. MM&KENZAI's goal is to be Asia's No.1 global construction materials trading company supporting richer and safer lives of the people through a passionate spirit to take on challenges. The company is spreading its wings out into the world.

Company History
---
Mitsui & Co. Steel Ltd.
Metal One Structural Steel & Resource Corporation
Mitsui & Co. Steel Construction Material Ltd. establishedApr. 1993

Sep. 1994Nissho Iwai Structural Steel established

Apr. 2004Nissho Iwai Structural Steel and MC Metaltech are integrated and launched as Metal One Structural Steel & Resource Corporation

Mitsui & Co. Steel Construction Material Ltd. changes its name to Mitsui & Co. Steel Ltd.Oct. 2007

Mitsui & Co. Steel Ltd. is merged with the domestic Iron & Steel Products team of Mitsui & Co. Ltd., Sintsuda Corporation, Mitsui & Co. Special Steel Ltd., and Mitsui & Co. Plate Processing Ltd.Apr. 2008

Oct. 2012Steel products for construction and steel raw materials businesses of Metal One Corporation's regional companies (Metal One Hokkaido, Metal One Nishinihon, Metal One Shikoku and Metal One Kyushu) are transferred to Metal One Structural Steel & Resource Corporation

Steel raw materials business is transferred from Mitsui Bussan Metals Co., Ltd. to Mitsui & Co. Steel Ltd.Apr. 2013

Oct. 2013Metal One SSS West Japan, Ltd. integrated with Metal One Structural Steel & Resource Corporation

Nov. 2014Metal One Mitsui Bussan Resources & Structural Steel Corporation is formed

Nov. 2015Company name is changed to MM&KENZAI Corporation
Corporate Profile
---
Company Name
MM&KENZAI Corporation
Head office
Shiodome City Center 17/18F, 5-2 Higashi-Shimbashi 1-chome, Minato-ku, Tokyo 105-7117, Japan
Capital
¥10.375 billion
Sales
¥811.9 billion (year ended March 2023)
Representatives
Representative Director, President and Chief Executive Officer: Takeo Nukui
Representative Director, Executive Vice President: Tomoyuki Mochizuki
Shareholders
Metal One Corporation (50%); MITSUI & CO.,LTD. (50%)
No. of employees
Approx. 630 (non-consolidated); approx. 1,000 (consolidated) (as of April 2023)
Main businesses
1.Steel products for construction
Sales, processing and import/export of steel products for construction, civil engineering materials, Base Pack, system construction,
deformed bars and section steel, plus a range of civil engineering and architecture-related construction work

2. Steel raw materials
Domestic, import/export transactions of steel raw materials,
and environmental recycling business promotion
Our Business
---
Supporting Social Investments in Infrastructure for the
Future
All-around capabilities from making estimates to construction work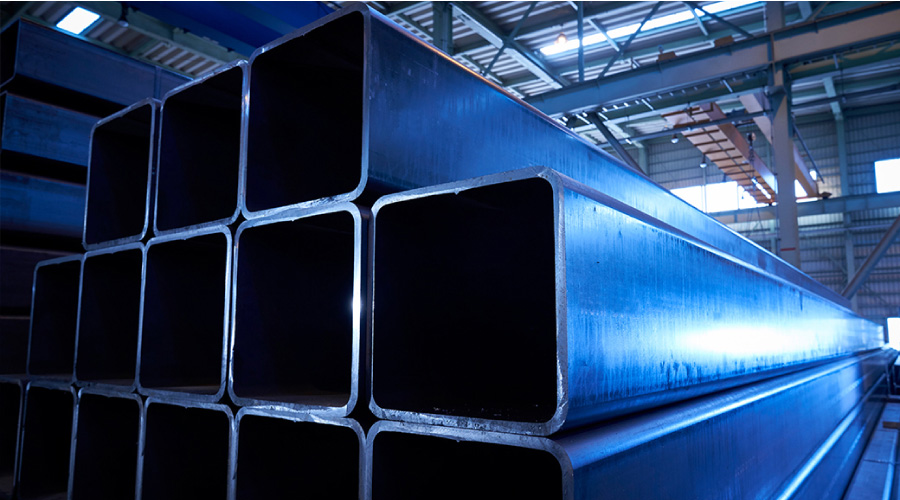 MM&KENZAI Corporation supplies a wide variety of structural steel products such as H beams and thick plates to our clients, who include steel frame, bridge fabricators and steel tower manufacturers. We maintain close collaboration with our branch offices, sales offices, and group companies across Japan. Also, with a strong network of fabricators, we are able to swiftly carry out sales and procure materials for all types of buildings. We are effective in responding to the demands of our clients, such as for construction, quality control, process control, and construction progress management by utilizing the functions of our group companies.
Structual Steel Business
Products
Steel plates, H beams, columns, section steel, deck plates, Kadopita (backing strip), high-tension bolts, steel frame construction
Supporting people's lives through building foundations and infrastructure development
MM&KENZAI Corporation handles a wide range of products essential for building and maintaining infrastructure. These include: materials for civil engineering and building foundation work (steel pipe piles, steel pipe sheet piles, steel sheet piles, etc.); shield construction materials such as underground railways and utility tunnels (segments, FRPM pipes, etc.); road materials (guard rails, sound barriers, railings, etc.); and materials for outdoor structures (fences, gratings, etc.). We support people's lives by supplying products needed for building foundations and infrastructure including: foundation work for buildings and bridges; revetment work to reinforce coastlines and river embankments; tunnel excavation work; and exterior construction of commercial facilities and distribution warehouses. We are also involved in large-scale projects such as disaster prevention and recovery work and transportation infrastructure building, and our extensive capabilities, based on data and know-how accumulated through countless projects, are unique to MM&KENZAI Corporation.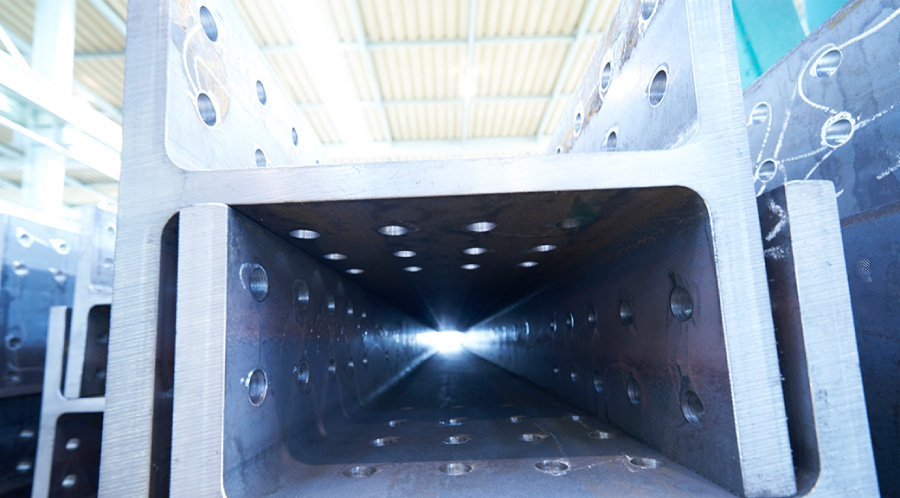 Civil Engineering Business
Products
Steel pipe piles, steel sheet piles, H beams, segments, pipe materials, guard rails, fences, railings, gratings, steel drainages
Meeting the needs of customers through stable material supply and reliable construction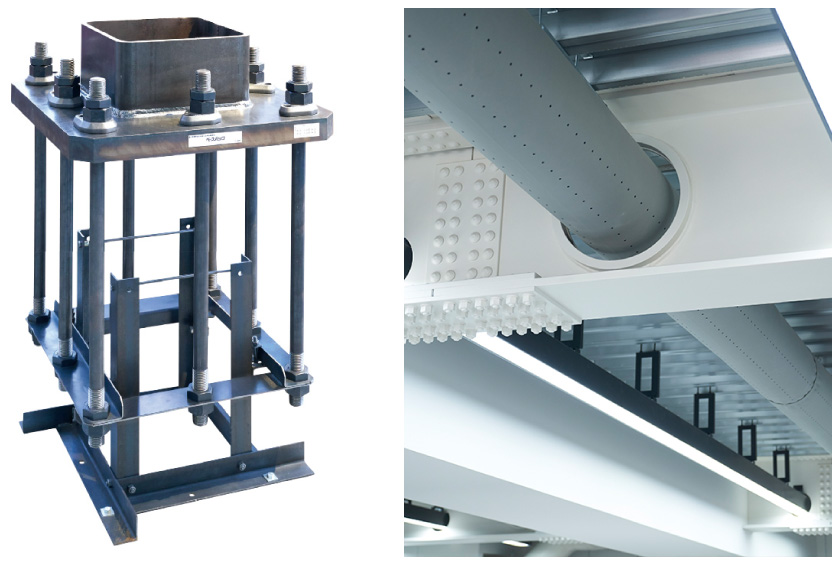 In addition to Base Pack—a column base product for steel frames that is a staple for us—we handle a wide range of products including: OS rings (steel frame through-hole reinforcements), antiseismic and vibration-damping components (unbond braces, B-UP braces, NS-SSB devices, Octobases), and Stan packages (pre-engineered building components), Intumescent Fireproofing Coating(Interchar212). We also perform contracted construction work in addition to selling materials. Base Pack, which we sell, is characterized by outstanding earthquake resistance using an exposed column base construction method to achieve joints that meet holding strength requirements. With a record of zero collapses in the Great Hanshin Awaji Earthquake of 1995 and the Great East Japan Earthquake of 2011, the Base Pack system is used for a wide range of buildings from private homes to large-scale stores and factories, giving our business partners, residents, and users peace of mind. MM&KENZAI Corporation has a network of about 70 sales contractors throughout Japan, and contributes to a safer society by consistently supplying materials and ensuring reliable installation to meet the demands of customers.
Base Pack Business & System Construction Business
Products
Base Pack, column construction, OS rings, antiseismic and vibration-damping components, deck plates, Intumescent Fireproofing Coating (Interchar212)
Stable supply with industry-high volume
We primarily deal in deformed bars, which is the main material of reinforced concrete structures. We also handle threaded deformed bar, deformed bar mechanical joints, structural round bar, and semi-finished billets. Deformed bars are the most common structual steel products used in Japan. They are known for their high versatility, and are used for apartment buildings, schools, and hotels, as well as for the foundations of steel-framed high-rise buildings, distribution warehouses, and wooden houses, as well as for civil engineering projects. Deformed bars also happen to be a recycled product manufactured from ferrous scrap by electric furnace steel makers, and is eco-friendly because in the manufacturing process it emits less CO2, said to be the main cause of global warming. MM&KENZAI Corporation takes pride in handling the industry's highest volume of deformed bars, and has achieved stable supply of deformed bars based on market/supply trends for raw materials and billets.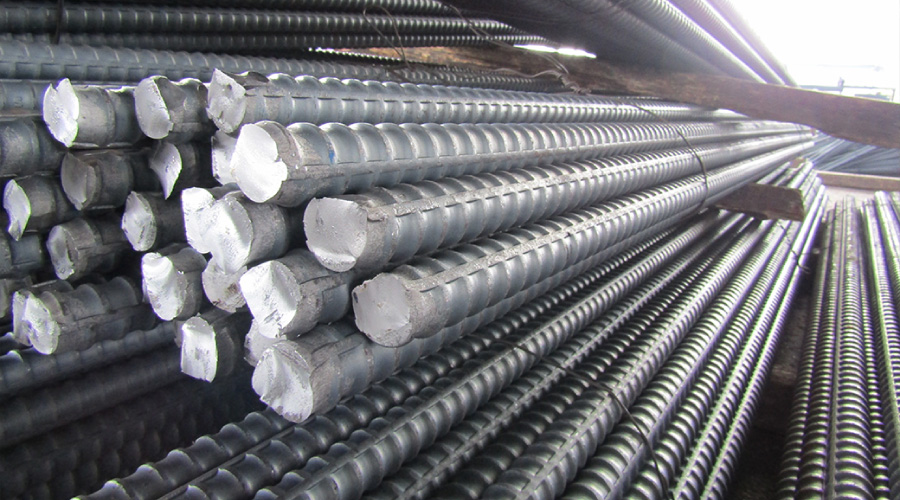 Steel Bars Business
Products
Steel bars for reinforced concrete (deformed bars), mechanical joints, round bars for structural use, ordinary steel wire rods, secondary processed products of special steel wire rods, secondary processed products of reinforcing bars (welded wire mesh, spiral hoops, welded closed type hoops, etc.)
Meeting the diverse needs of customers through our wide range of networks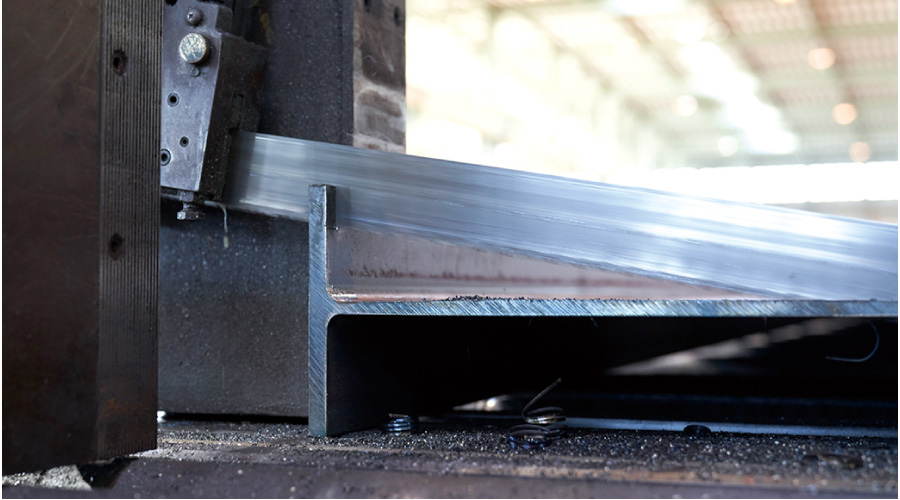 We mainly sell shaped steel products used for structures such as buildings and factories. These products, which are used in a wide range of applications, include: H beams, columns, angles, channels, flat bars, rails, light beams, and so on. We purchase these products from manufacturers and sell them to customers, mainly steel wholesalers (stock distributors). Our strength is our wide range of purchasing and sales networks, which are unique to the MM&KENZAI Corporation Group. We have offered a one-stop service for our customers by utilizing our stock, processing, and distribution bases spread throughout the country. We are always maintaining close contacts with customers in each region of the country and preparing a system to meet the diverse needs of our customers.
Long Steel Products Business
Products
H beams, angles, channels, light beams, flat bars, columns, rails, and various other steel products
Preserving the
Future

Global Environment
Providing new value to the world with metal scrap business, to build a sustainable society
We trade in ferrous scrap and stainless steel scrap domestically and through imports and exports. Utilizing business relations with approximately 1,000 companies across Japan, we have been able to establish an optimal raw material supply system that matches the demand of the blast furnace and electric furnace mills. We handle the largest amounts of scrap in the industry. In recent years, we have been expanding into overseas markets with exports to South Korea, Taiwan, as well as Southeast and Southwest Asia.
Expanding into the broad field of the Environmental Recycling Business
MM&KENZAI Corporation strives to help enhance the recycling of materials other than ferrous metals and stainless steels as well, and to promote its commercialization. Through industrial solutions to the mounting problems concerning waste and the environment, we are contributing to the preservation of the global environment and the realization of a recycling-based society.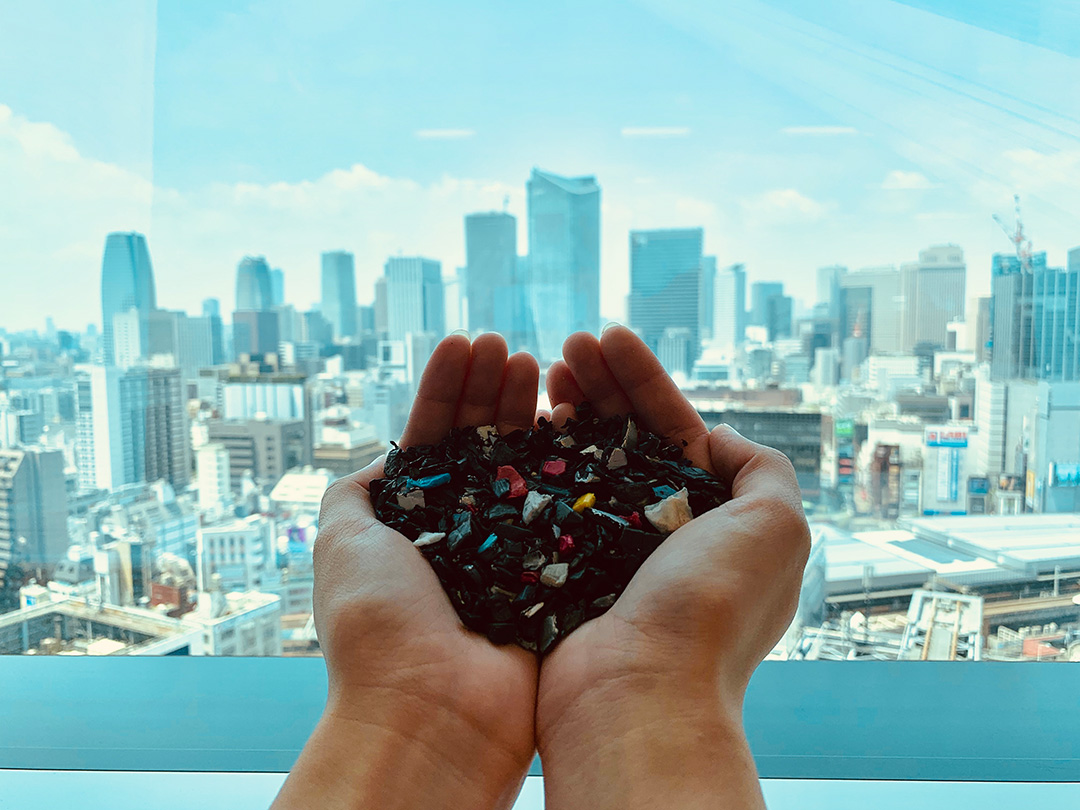 Steel Raw Materials and Environmental Recycling Business
Products
Ferrous scrap, stainless steel scrap, pig iron (for steelmaking and casting), hot briquetted iron, subsidiary materials for steelmaking, ferroalloy, waste plastic, etc.
Guaranteeing Safety for the
Future
Construction Contractor
Contributing to the stability of construction infrastructure development
and lifestyle-supporting infrastructure
MM&KENZAI Corporation Group has an extensive track record in steel frame construction to meet needs for buildings of all kinds, from high-rise and medium-height buildings to commercial facilities such as large shopping centers. We contribute to the stability and sturdiness of construction infrastructure and to stability in the business of building lifestyle-supporting infrastructure. Needs have been diversifying in the steel frame building industry in recent years, and those demands call for the integration and management capabilities of a trading company that includes the procurement of steel products. MM&KENZAI Corporation Group has abundant knowledge and experience that we can draw upon to meet such demands from customers, including reduced costs, quality assurance, and reliable delivery. We accomplish this by centrally managing a range of operations from the manufacturing of steel frame products to on-site construction. With safety as our top priority, we will continue to provide high quality and quick, sturdy construction.